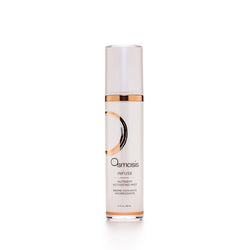 Infuse
Nutrient Activating Mist
Enhance your daily routine. This natural face toner works wonders when applied after a skin serum, unlocking the full potential of your skincare regimen. Immerse your skin in nutrient-rich goodness and let it shine with a renewed, radiant glow!
THIS PRODUCT:
Enhances product penetration

Promotes supple, hydrated skin

Delivers peptides and antioxidants
Use: After serum application, spritz 3-5 times and massage into skin. May repeat when desired. WARNING: Avoid direct eye contact.
Pro Tip: Use after waxing to soothe and repair irritated skin.
Water.
This formula has been treated with proprietary frequencies.
Color may change or vary naturally over time. This does not reduce the efficacy of the product. This ingredient list is subject to change; please refer to product packaging for the most up-to-date ingredient list. Chirally correct ingredients used where possible.