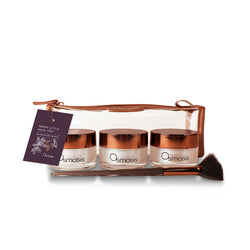 Merry Little Mask Trio
🎄✨ Have Yourself a Merry Little Mask Trio with Osmosis! ✨🎄
Discover the perfect holiday treat for yourself or your loved ones with our Merry Little Mask Trio. Each mask is a luxurious gift of self-care, tailored to capture the essence of the season and elevate your skincare routine.
Includes:
Autumn Spice Enzyme Mask - 15mL
Immerse yourself in autumn's cozy embrace with our gentle exfoliating mask. Cinnamon, Nutmeg, and Clove enchant your senses, while Pumpkin and White ginger shield your skin against damage. Lactic Acid and Bisabolol reveal renewed luminosity and calmness. Experience the beauty of the season in every application.
Winter Warming Enzyme Mask - 15mL
Invigorate your skin with the Winter Warming Mask that subtly warms to gently exfoliate and decongest. Absorb the aromas of sweet clove, cinnamon, and nutmeg while promoting skin vitality with apple fruit extract. Enjoy a firmer, smoother complexion and a boost in your sense of well-being.
Hydralift Firming Gel Mask -15mL
Experience the gift of hydration and firmness with our soothing and tightening mask. Cucumber extract cools and heals, while Aloe Vera intensively hydrates and renews skin. This hydrating and firming mask is the perfect companion for all skin types, offering a rejuvenating touch during the changing seasons.
Feathering Fan Brush
Designed for ease of application, our Feathering Fan Brush adds a touch of luxury to your masking routine. Glide your way to radiant skin, enhancing the spa-like experience.
Square Clear Bag
Keep your holiday treasures organized with our chic and transparent Square Clear Bag. Perfect for holiday travel!