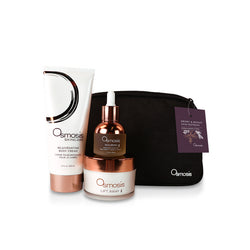 Merry & Bright Skin Refresh Kit
Indulge in a Holiday Glow-Up Like Never Before
Give your complexion the luminosity it deserves with this hydrating bundle, ensuring you're picture-perfect in every holiday photo. The Merry & Bright Skin Refresh Kit is your ticket to holiday radiance and skin that shines as brilliantly as the season itself.
Includes:
Nourish Avocado Facial Oil - 30mL
Elevate your skin's plumpness and elasticity with this wonder-working avocado oil. Its easy absorption promotes a timeless, luminous glow, adorning your skin with a radiance that rivals the holiday lights.
Lift Away Cleansing Balm - 75 mL
Rinse the day away with our luxurious cleansing balm that envelops your skin in moisture and nutrients. Effortlessly dissolve makeup and impurities while revealing a refined complexion and a revitalizing glow, perfect for seasonal festivities.
Rejuvenating Body Cream - 200mL
Wrap yourself in radiant, supple skin with our healing and nourishing body cream. Experience the embrace of collagen-boosting benefits and hydration while basking in the enchanting scents of Orange and Ylang-Ylang. It's not just skincare; it's a luxurious treat for your body.
Black Fanny Pack - New!
Stay stylish and skincare-ready for every holiday adventure! Carry your essentials with you wherever you go with a sleek black fanny pack.